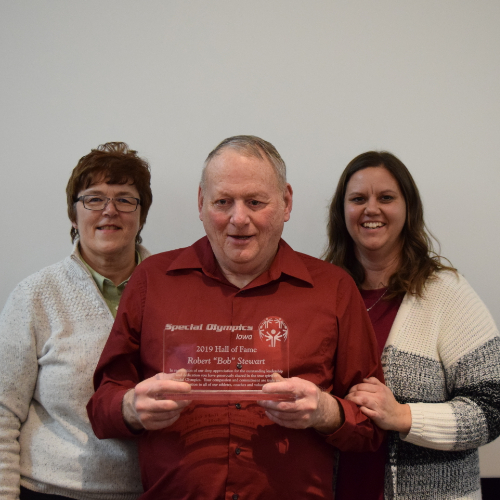 Serving Since '79
Our 2018 Outstanding Staff of the Year is Bob Riemersma. Bob began his career with Village Northwest Unlimited on November 6, 1979, after spending 4 years in the Air Force. Bob was hired to supervise the woods area at Northwest Enterprises, which today is known as the Summit. Later, Bob became the supervisor of Packaging Specialist. Packaging Specialist was located in the Futures (now the ACT Center) building and packaged candy for Sather's Company of Round Lake, Minnesota. During his many years at VNU, Bob has spent time supervising various production areas within NWE and Futures. As part of the transition to Village 2.0, Bob has become a Community Program Instructor / Job coach.
Bob demonstrates the Village's mission of purpose, privacy and dignity with the humor he uses in his interactions with co-workers and individuals served. He is quick to help wherever needed and does so with a positive attitude. Bob provides supports to those served through his job coaching. His coaching helps them to be successful in their community jobs. Whenever Bob is supporting individuals in the Day Hab area, he always offers choices to the individuals. He makes sure their wants and interest are met. These positive interactions demonstrate Bob's support of VNU's vision of building successful lives through opportunities and choices.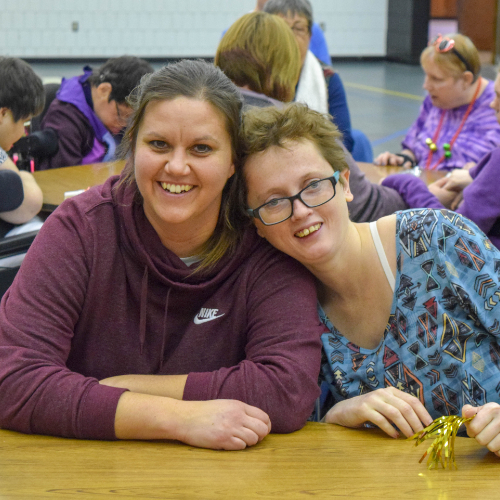 Values
These comments of Bob's values are from his coworkers, who nominated him for this award:
Christian Atmosphere: Bob treats others each day with love and compassion. He takes the time to greet each and every individual whether they are verbal or not and makes them all feel special and loved.
Purpose for Everyone: Bob encourages the individuals and the staff to be the best version of themselves. He recognizes effort in the individuals we serve no matter what their level may be. He encourages others to be involved in making the Village better.
Respect: Bob is always ready to thank others for a job well done or offering a compliment to others for what they are doing. When he sees someone struggling, he is quick to help them or offer solutions.
Accountability: Bob will never ask someone to do something that he would not do. He is not afraid to ask where he can do better. He holds staff and individuals served to a high standard, while always looking for positives.
Integrity: Our individuals flock to Bob. He shows a positive attitude even on the darkest days.
Unity: Bob is always willing to help others. He does so in a way that does not draw attention to himself. Bob helps others even when it does not benefit him. Bob is at VNU for the residents.
Excellence: It is evident in the work Bob does that he is willing to improve himself and others. Bob demonstrates excellence by the effort he puts into the classes he teaches or outings he leads.
Dedication: Bob comes to work every day. He smiles and never complains. He has been at the Village since 1979…. If that isn't dedication, what is?
When thinking of the Village, and our desire to provide purpose, privacy and dignity for all people, it is easy to see that Bob is a great asset to the Village. Bob has demonstrated the Village values in all his interactions with others. He works hard and is a huge part of the Village family!
Congratulations, Bob, on being named the Village Northwest Unlimited 2018 Outstanding Staff of the Year!
Congratulations on 39 Years at VNU Bob!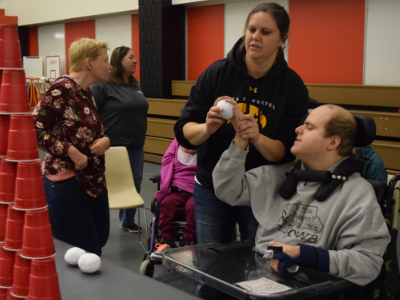 Bob and a group of consumers spent time in October 2018 creating incredible scarecrows to showcase in the VNU Fall Festival's Scarecrow contest. The group took home 1st place and a cash prize!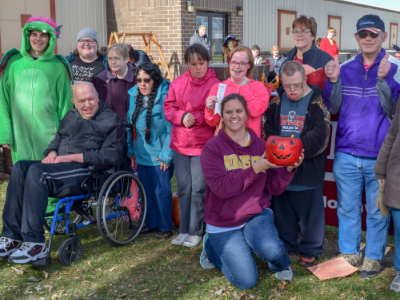 VNU consumers were learning about the different types of fair foods during the Fair Foods curriculum at the VNU Summit building in August 2018. After spending an afternoon frying donuts the consumers spent time sharing them with staff, including Bob.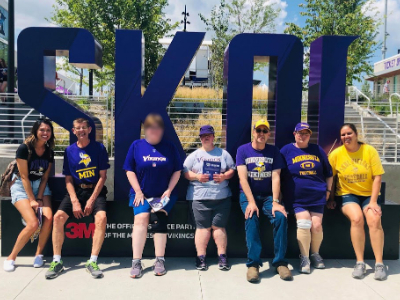 Bob taught a Pet Therapy curriculum, the group spent time relaxing with dogs and cats around the Sheldon and Sioux City area.