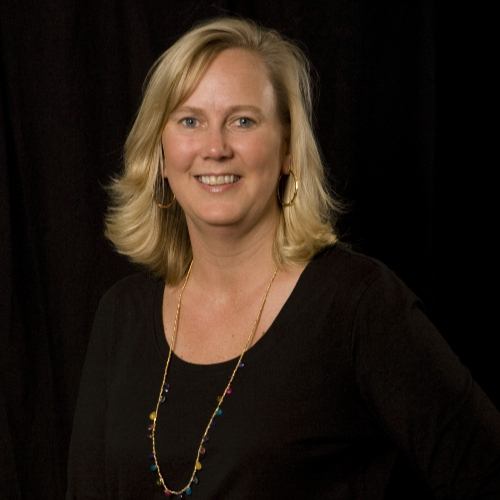 2020 Staff Person of the Year
Daphne Bremer
Our 2020 Outstanding Staff of the Year is Daphne Bremer. Daphne received her Bachelor's Degree in Psychology from Dordt College in 1992. Daphne joined the team at House #358 as an Advocate in 1993. From there she moved to House #350 to assume the role of Residential Leader. Her next move was to House #366 as the Residential Leader/Qualified Intellectual Disability Professional. After a few years away from VNU, Daphne returned to her previous position at House #366 in 2014, a position she still holds today.
Daphne demonstrates the Village's mission of purpose, privacy and dignity through her commitment to the individuals served and wanting them to experience success and have opportunities to do things they will enjoy. Anyone who knows Daphne knows she cares deeply about the people she serves as evidenced by her strong advocacy for them. Daphne has been instrumental in the creation of Campus Community Church, which allows individuals served and staff the opportunity to worship together. She serves as a mentor to the other Residential Leaders, who look to her for advice due to her years of experience in leading and managing staff and residents.
24 Years in Pictures
We were lucky to find a few pictures of the illusive Daphne, when the camera comes out she usually finds a bush to jump into or a tree to stand behind!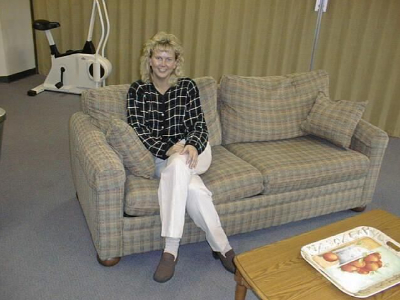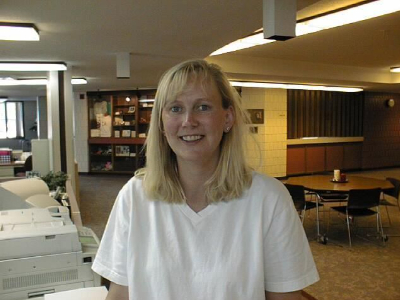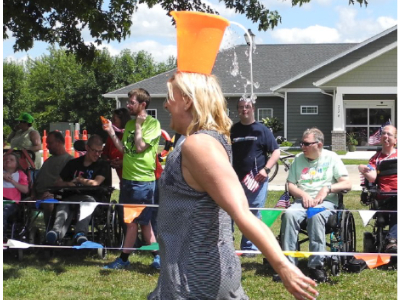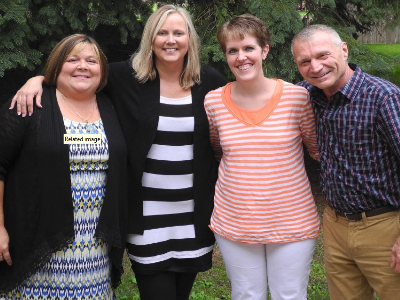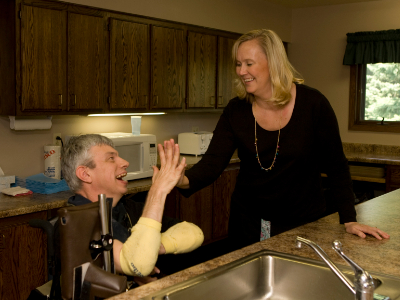 Village Values
These comments of Daphne's belief in the values of the Village are from her coworkers who nominated her for this award:
Christian Atmosphere
Daphne has compassion for both staff and residents. She is an encourager of others, celebrates their success and puts others first. As an example, a resident was recently having difficulty sleeping so she stayed up all night with that person to provide comfort and brainstorm solutions.
Purpose for Everyone
Daphne does not accept things at face value. She has a knack for looking at situations with a fresh set of eyes. She is quick to recognize when a resident might benefit from an adaptive aid, an experience, a therapy, or just a change of scenery. Being mission focus drives this kind of insight.
Respect
Daphne is creative in challenging staff to improve work skills in a way that creates loyalty. Staff recognize this and respond well to this level of respect.
Accountability
Daphne is able to meet the significant expectations of the Residential Leader position while always making time for people that need her.
Integrity
A real world definition of integrity is doing the right thing whether someone is watching or not. That defines Daphne. Her strong faith guides everything she does.
Unity
Daphne focuses on teamwork. She recognizes the strengths and weaknesses of staff and does a great job of engaging team members so that they complement each other's skills.
Excellence
Daphne recognizes that every part of her job has a direct impact on VNU's mission so her desire is to do the job to the best of her ability, giving the residents the best life possible.
Dedication
Daphne is willing to do whatever it takes to fulfill the mission. This includes brainstorming ideas, advocating for what is in the resident's best interest, working extra hours, being available to support both residents and staff when they need it. Her efforts create a culture where residents and staff want to live and work.
When thinking of the Village, and our desire to provide purpose, privacy and dignity for all people, it is easy to see that Daphne is a great asset to the Village. Daphne has demonstrated the Village values in all her interactions with others. She works hard and is a huge part of the Village family!
Congratulations Daphne!