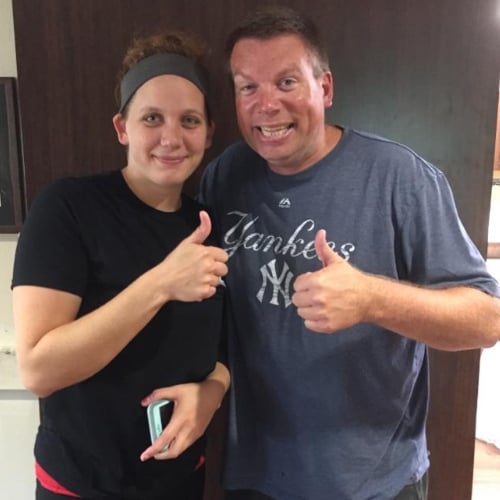 2019
January Staff Person of the Month
Congratulations to our January Staff Person of the Month, Shelby Leth! Shelby was born in Spencer, IA and grew up in Hartley, IA. She graduated from HMS in 2010 and currently lives in Sheldon.
When asked about any favorite memories from growing up she mentioned going to Michigan to visit her dad, Mike, in the summer and spending time with family there. Her family's current tradition is going to her mother Ann and step father Robert's farm and having a cook out and shooting off a TON of fireworks for the 4th of July.
Shelby has two kids, Kaiden and Kimley and two fur babies, a dog named Max and a cat named Doug.
Much of her free time in the summer is spent going to races with her kids and family. Tony Stewart raced in Jackson over the summer and she had the opportunity to go with her mom who is a big fan of his and watch. Shelby's love for racing has rubbed off on her son who says he wants to be a sprint car driver when he gets older.
Before coming to VNU fulltime Shelby stayed home with her babies for three years which she still misses at times, however, she is happy to have a job away from home. She started at VNU on December 11th 2012. She began at House 350 and transitioned to Houses 334/338 when the new homes were built on campus in 2015. Shelby works day shift and overnights as a DSP and is on the leadership team at House 334/338. Working with most of the same residents for the past six years has helped Shelby make strong relationships with many of the individuals served in her homes. Shelby said, "I actually enjoy and look forward to coming into work because of the residents."

When asked what brought her to VNU she said that Tessa Daggett who works at House 366 told her all about VNU and it wasn't too long after talking to Tessa that Shelby made the jump and applied for a position. The best memory she has from her time at VNU was when she helped take residents to a Twins game in Minnesota. Every time the crowd got excited or the Twins scored the residents would get excited. Shelby spent so much of the game getting lunches and helping the residents that she missed a lot of the game but it was all worth it to see how much fun everyone had.
Thank you for all you do Shelby!