BUILDING ON OUR FUTURE
It is a tremendous blessing for the people we serve to receive care in a place they can all home, one which incorporates a warm, welcoming, and nurturing environment. When looking for services, imagine the anxiety of a parent choosing to entrust the care of their child to others, wondering what kind of care they will revive and whether they will like their new home. Now, imagine the relief the family experiences when they arrive on the Village campus and see their child's new home. They step through the doors and experience a warm, inviting atmosphere that feels like home. Isn't this the feeling all of us as parents want when our child leaves home? Since 1976, VNU has provided Purpose, Privacy and Dignity to all people. It is out privilege to continuously fulfill this mission by providing what every parent wants for their child...excellent care, purpose, and a safe place to live; all in a place they call home. The care environments we developed with the campus homes opened in 2015 and 2016 greatly enhanced these services. Now the time has come to build on the future with the construction of two more on the spring of 2020.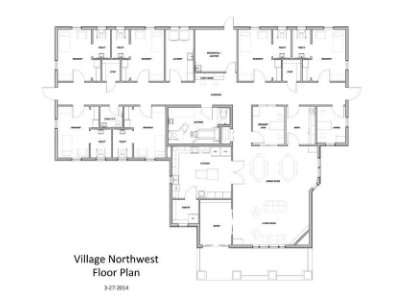 Floorplan
The new homes will have zero grade entrance for easy access, patio space for enjoying time outside, wide and expansive kitchen facilities, private bedrooms with attached half bath, and a track system in the residents rooms for safe and convenient transfer between the bed and bathroom.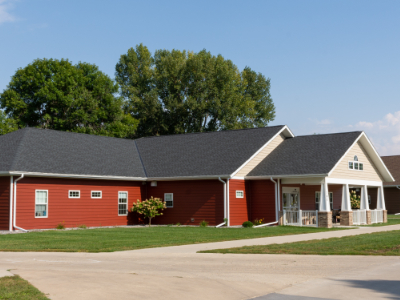 Features
The homes will also feature smaller family environments, resulting in decreased behavior issues, a handicap accessible shower and whirlpool tub, and a common bathroom designed to serve as a storm shelter during severe weather.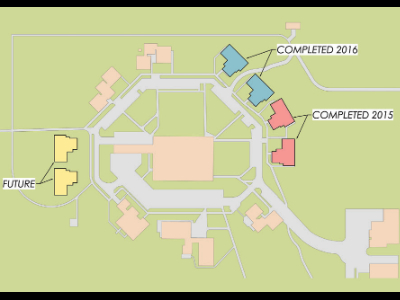 Goal
Our goal is to raise $3 Million to build two new homes on our campus.
$2.5 Million for the new homes and $500,000 for the Legacy Endowment for Direct Support Professionals.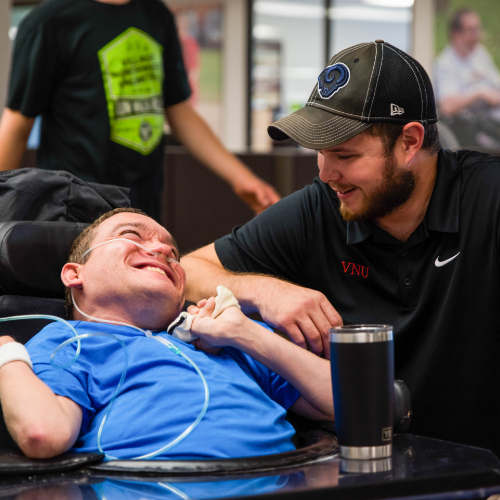 Giving Now DOUBLES Your Gift
Now is the perfect time for you to contribute to the Building on Our Promise Campaign. The Lori and David Scott Foundation, long-time friends and supporters of VNU and our mission, has generously offered a matching donation challenge specifically for this campaign. For every dollar raised, (either pledged or immediate cash contributions), they will match your gift/pledge dollar for dollar up to a total of $500,000. Now is the time to DOUBLE YOUR GIFT! Village Northwest is grateful for this unique and special opportunity. Please join us by donating or pledging now to maximize their incredible offer.
WE NEED YOU
At VNU we have a clear vision and a bright future. Our commitment to financial responsibility will allow us to continue making improvements well into the future. However, to make a difference now we need your support. As a premier provider of services to individuals with disabilities, we hold ourselves to the very highest standards as we fulfill our promise to implement our mission with excellence to those we serve. This means we must have a care environment where our residents have the greatest chance for success.
Our shared FAITH and our commitment to passionately pursue our MISSION has allowed us to significantly improve people's LIVES in very meaningful ways through the years. Our new homes change and improve lives. Donate now to help us fulfill our mission
Thank you for your support!